I am updating this blog now as fast as a bullet, perhaps we might lose electricity any time of the day today due to hurricane Irene. Based on weather forecast, hurricane may hit New England, but they are not definite as to how hard it will be. This hurricane scurried people and made others panic. For some, it seems like it's the end of the world. Really. I can tell you. Yesterday, while I was at the store to pick up some stuff for my friend's baby shower, I felt the tension of people building up, empty food shelves and long queues before I could reach the cash register to pay my purchases. Unlike ordinary days when I am in the store, but in this case it was really an odd scenario. Just visualize yourself shopping before Christmas and New Year holidays. People jostling to get food and a stack of food in their wagons. That's how busy the store was. And isn't it scary that we might have power outages for 3 days? But, I hope and pray that hurricane would not be as strong as they have predicted. Praying for our safety.
Due to bad weather, as we speak, the surrounding is gloomy, strong wind that made a hushing sound coupled with more powerful stream of rain that made me emotional at the moment. Which I kinda like it, because I am a very emotional person when it speaks about my family. I do love rains. I really do. Rain generates my brain cells to work, and I found the comfort to write right now. Ok. I am not gonna cry, but maybe just a little teary eye. Never mind when I cried, I have a hankie here as big as a blanket. Pardon me if I am too corny now. I am truly sorry, because this rarely happens to me. So, please indulge me to release my feelings.
My life is really stunning, more beautiful and colorful having Mr.Freddy. I immensely cherish every moment with him. Every time I hear his laugh is like a music. With each of his laugh is a beat of my heart. So, thank you my son for your laughters! Your laughter is very important to me- having a good laugh with you releases endorphins in my brain. Your laughter freed my soul and is good to my body. So. Mr.Freddy, never stop laughing.
One of the things that bursts me or Mr.Freddy into laughter is the swing ride. He seems ticklish every time I push him on the swing. Just like the photos below, he looked so fearless and truly enjoyed the swing at the Fort Williams Park in Cape Elizabeth, Maine. This is another great memories with my son and hubby.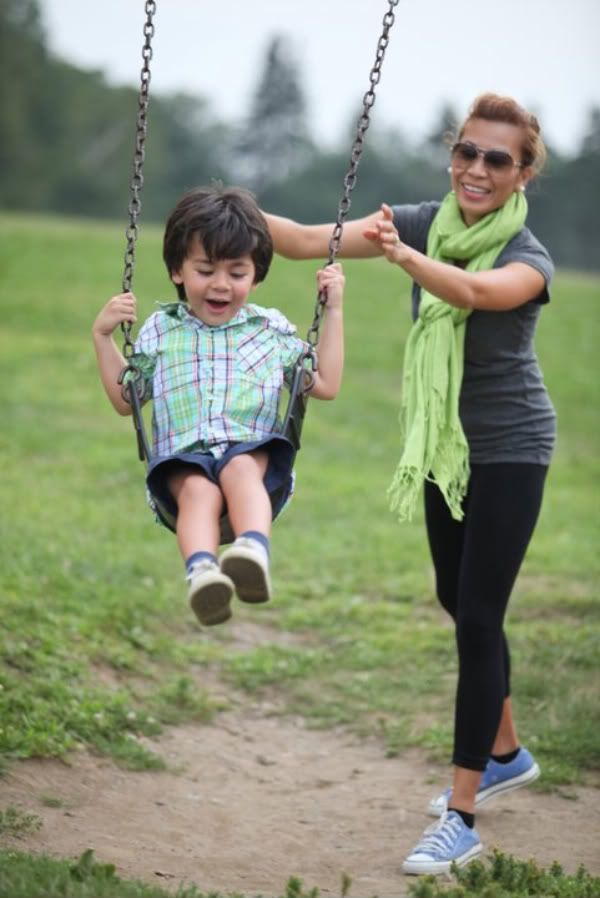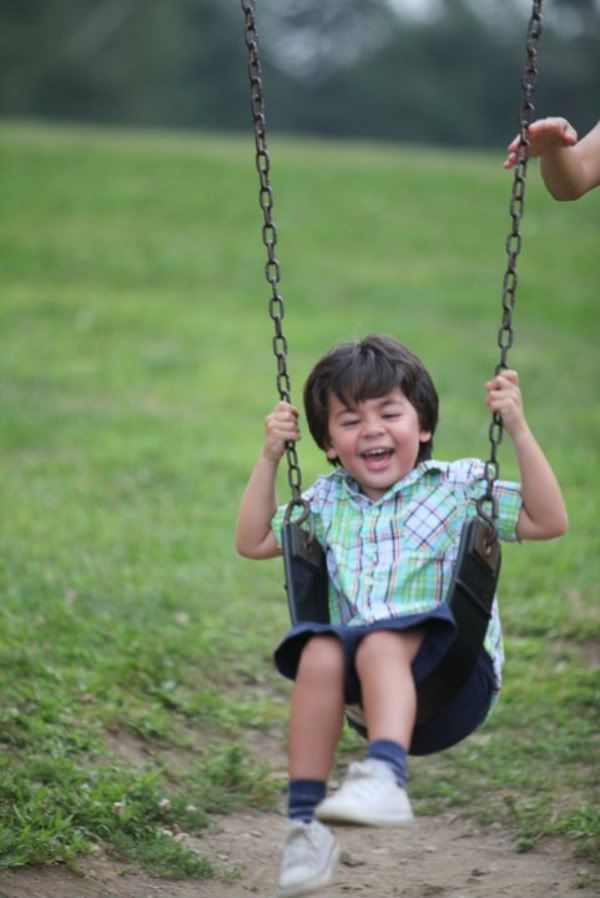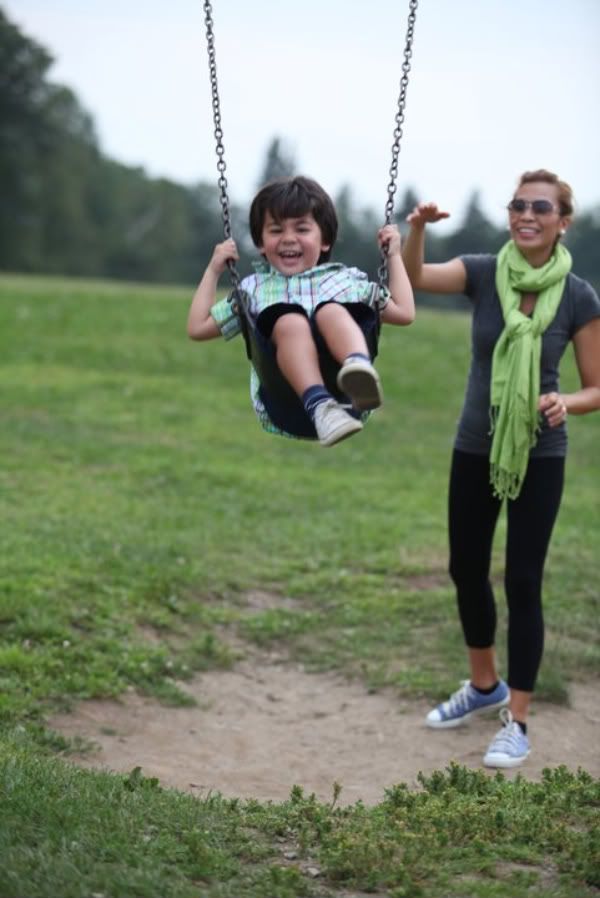 After the swing ride, it's my moment to have some photos. This was what I wore- another casual or sporty outfit. I noticed now that I am mom, my clothing style is more subdued, without many ornaments on my body, and I minimize wearing high heels. In fact, what I wore here was really appropriate to this place where we went, and the type of activity we had engaged with.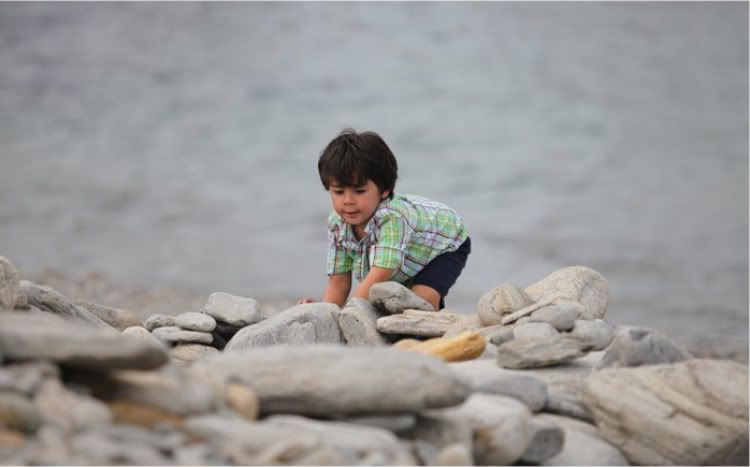 Mr.Freddy crawling on the rocks.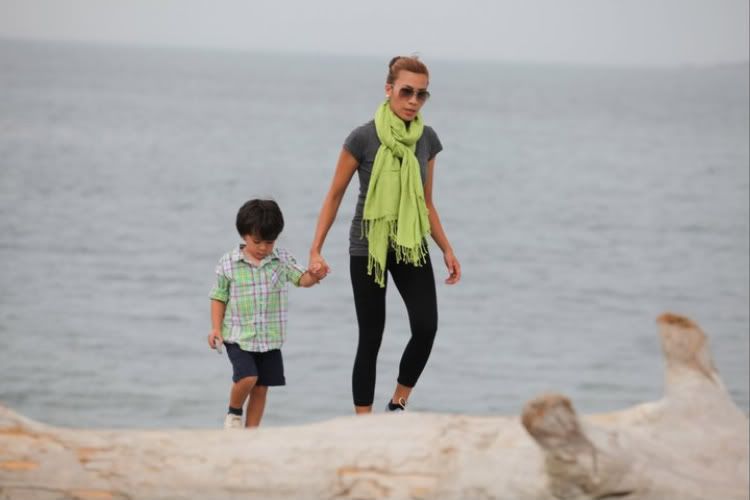 He had difficulty walking on the rocks, so I gave him a hand. This is really my role in life- no matter what happen, I will always stand by him. And, that's a given already.
Thank you so much for reading. I gotta go for now, I will be disconnected soon due to the storm.