The weather is just so perfect today, not too hot and not too cold, it's just right, so there's no reason for me to confine myself in the house. My photographer is back home from work sitting idle and all of a sudden an outfit photo shoot agility crossed my mind.
With intense and blinding sun light, I wore yellow to suit the color of the sun.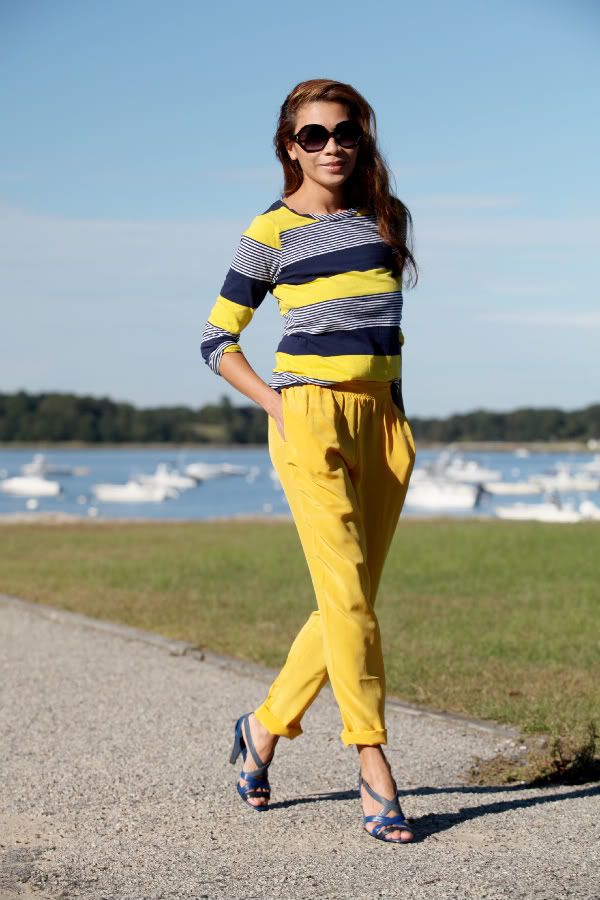 I must say I don't have a preferred clothing style. I wear any clothes that I want to wear. I find dressing up is fun and sometimes I will pull the clothes out from my closet without visualizing how it will look upon me. So, when hubby saw my outfit he told me I looked like a bumble bee! (Aren't I lucky having a photographer and critique at the same time?) I felt I was stupid because I had a delayed reaction on his comment of my outfit that I gaped and it took me a while to absorbed what he said. Haha! I got it! It was because of the colors of my outfit.
Thakoon for Target shirt.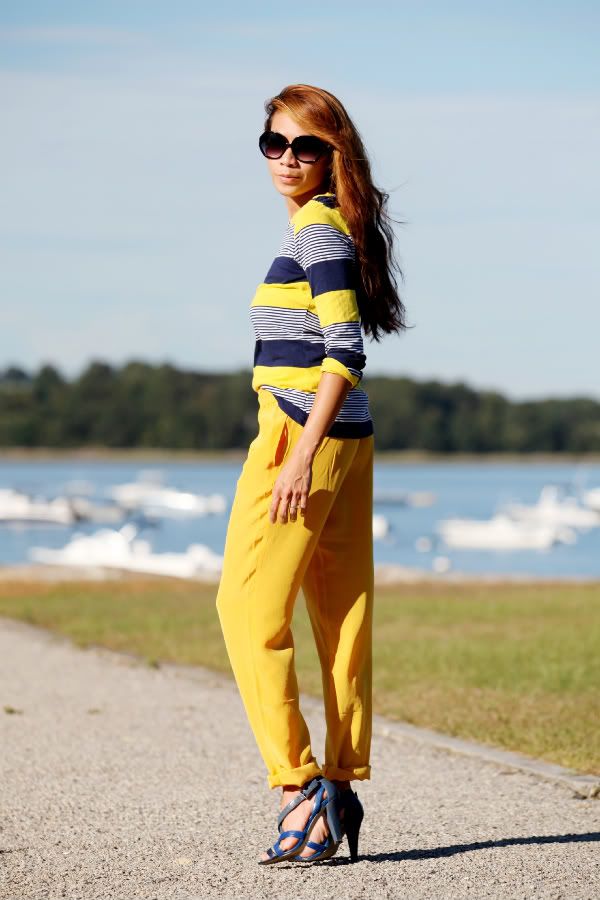 BB Dakota pants.
Enzo Angiolini shoes I stole from my sister. (Thanks Sister!)
Hubby was somewhat right! I do look like a bumble bee plus with the big sunglasses on. But I justified that one of the stripes on my shirt isn't color black, in fact, it is navy blue when you look at it closely and keenly.
Summer is dwindling down so I hope you enjoy the rest of it.
Speaking of bumble bee, Mr.Freddy got stung by a bee and all his eyes were swollen.
Thank you so much again for visiting our blog! Hello again to all our new followers... thank you for all your support and lovely comments! I know I sound like a broken record already, but please, just have a little patience I'm constantly juggling time between motherhood and household chores. Please let me know if I have missed to follow you, you mean so much to us, I do follow back. Have a blessed day everyone!