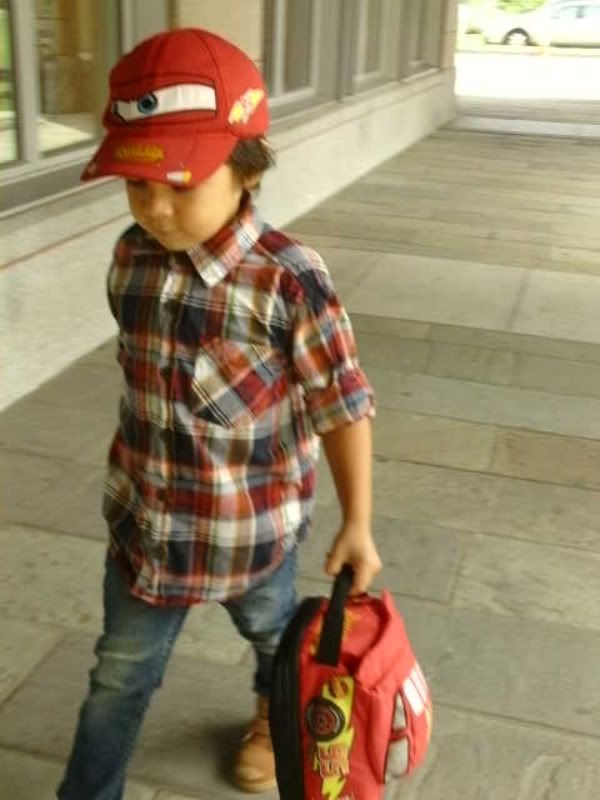 Where are you going Lil' Man?
Every time Mr.Freddy wakes up in the morning he always asks where are we going for the day. So today I took him to the library. Yes, this kid loves books so much! (
I apologize for the bad pictures today, pictures taken with Ipod Touch camera.)
This is what he wore- plaid shirt from Children's Place, H&M straight jeans, Koala boots, Lightning McQueen hat and snack bag) and his blogger pose.
He was dissatisfied with just one click so one more shot please, Mommy.
Wearing his very old boots that have scuff marks.
At the Cafe sitting crossed leg. Snacking after reading a couple of books.
He is now a good sharer. He asked me if I would like to sip some of the juice.
One more shot please! This Lil' Man can't get enough of the camera eh.
I thought it was just only one?! but more saying ''cheese''!
Ok, enough Mr.Freddy... it's time to go home so please buckle up for safety.
Thank you so much for visiting our blog! So Hi to all my new followers... thank you for all your support! I am on my way to follow you, i just need your patience though. I do follow back. Have a great weekend everyone!