My ''shaka'' sign (meaning cool or all right) and a kalachuchi or Plumeria Acuminata behind my left ear.
It's been almost two weeks already that we came home from our two month vacation but yet I hardly accept that our sweet journey has ended. I still always think of Hawaii; the beautiful white sand beaches on Kauai, the lush green verdure, the colorful tropical flowers and the warm weather of Hawaii.
However, I would like you to meet Betsy, our lovely car we rented during our stay in Kauai. She was amazing and strong climbing the zigzag road of Waimea Canyon. Every time we were driving up a hill, hubby would pat on the steering wheel and urge Betsy along with her small six cylinder engine. Mr.Freddy would be on the backseat laughing and yelling out. ''Go, Betsy, Go!". The roads were like roller coasters so we named the road,
the roller coaster road
since we travelled on this road many times.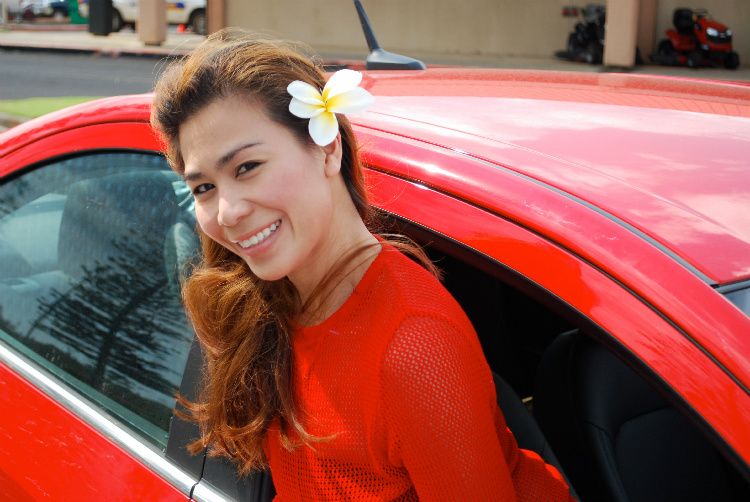 My first time to hold a real live octopus! Yes, a live octopus! I braved myself to hold them and they weren't bad at all. I was pretty nervous at first holding them both but I conquered my fear that made me proud of myself. But, what surprised me was when I smelled my hands were so smelly! I had to wash my hands three times.
Happy First Day of March everyone!