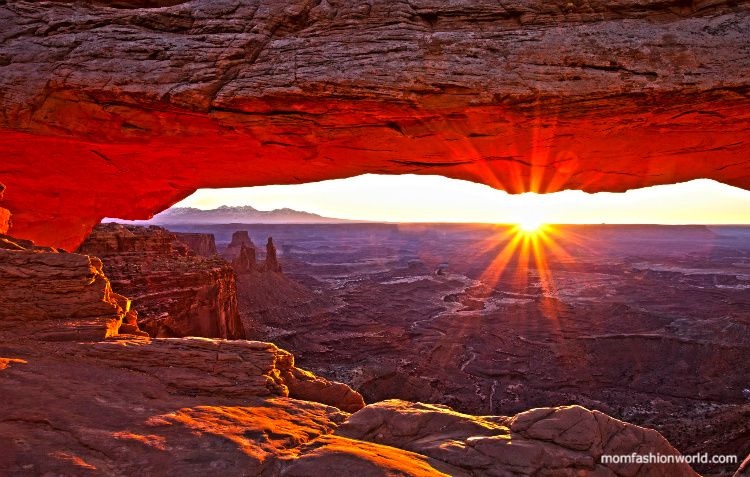 Mesa Arch, Island in the Sky in Moab, Utah.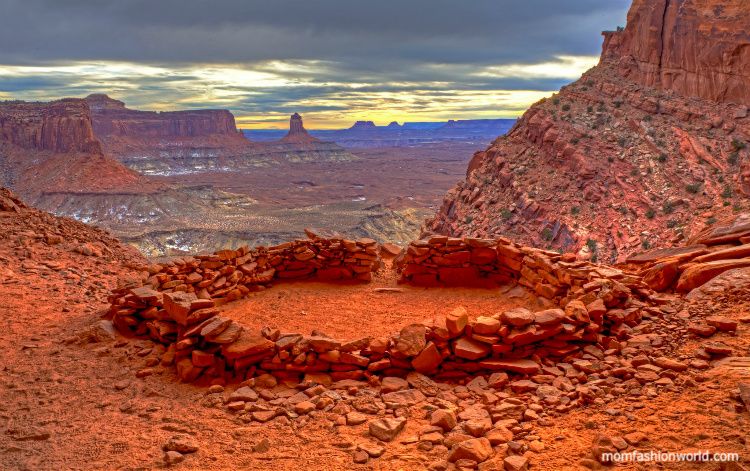 The False Kiva.
This Kiva (called false Kiva because the origins are unknown, but estimated to be 2000 yrs old) is an ancient stone circle overlooking a magnificent view. The location is kept secret, but can be located by asking park rangers, its classified as an class II archaeological site so no maps are available. According to the husband, he was shown 3 images by th
e rangers, first image was the beginning of the trail, second image was middle and the last was the Kiva itself…..the rest was up to you. The trail was so remote, difficult and dangerous to reach that Mr.Freddy and I stayed at the hotel. He fought to get there before sunset because a snow storm was approaching that night and he knew he would have to spend the night there in extreme weather if he got there too late because tracking back in the dark evening would be too difficult. There was climbing over boulders down hill and up hill, also at spots you had to walk side ways hugging a wall ledge that was 2-3 feet wide and 500 ft high. He kept on thinking "this is Indiana Jones stuff"….but he did make it and the images he came back with was worth the effort.
Canyonlands National Park-Island in the Sky was also one area that we visited when we were on vacation few months ago. We spent three days in Utah specifically in a small town called Moab. This town isn't large but it has lots of beauty to offer. Moab, Utah is known for its magnificent red sandstone arches which have been formed over thousands of years ago caused by natural erosion of wind and weather.
Canyonlands National Park is a beautiful park. There are many glorious spots to see here, but there are more hidden spots that take a long hikes to get to, lucky you, if you can find them. As I said, if you want to see some of the hidden gems at the park, you still need to hike. Just like those two images above, husband got up very early in the morning while Mr.Freddy and I were still sound asleep, drove 45 minutes from our hotel and a 30 minute hike in the dark to capture the beauty of Mesa Arch on sunrise.
With our experience, we mostly drove to the scenic overlooks of the park, because Mr.Freddy wasn't enthusiastic to walk. To all parents out there, you know how a three year old child acts sometimes, right? We went twice in this park. On our first day in the park, we checked, did some sightseeing and scouted different spots, so hubby knows where the best locations to take photographs for his landscape photography. And on our second day, it was right timing that Mr.Freddy was not so cranky and we got to see the Mesa Arch. Mr.Freddy was able to hike, at least. Or, hubby would carry him on the shoulder when he got tired. There are some spectacular view platforms in Canyonlands, but with little tots, do be careful and always watched them. There are no fences to restrict them from falling off a thousand foot cliff.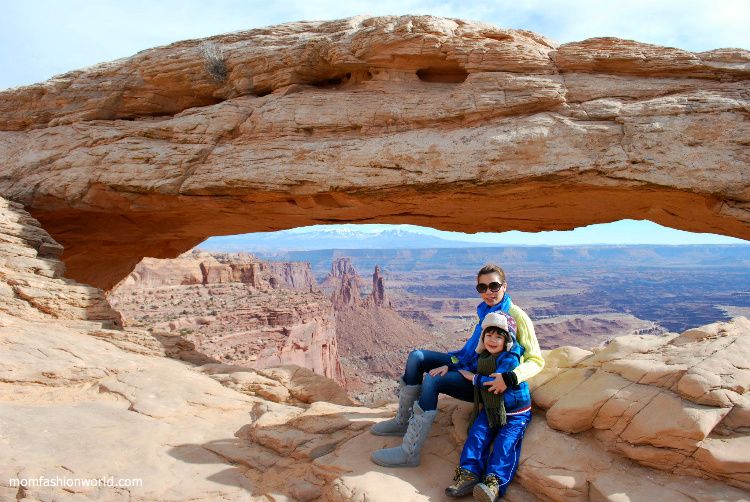 Us, with the Mesa Arch backdrop. We hiked 30 minutes to get here. There were trails and they were easy to follow.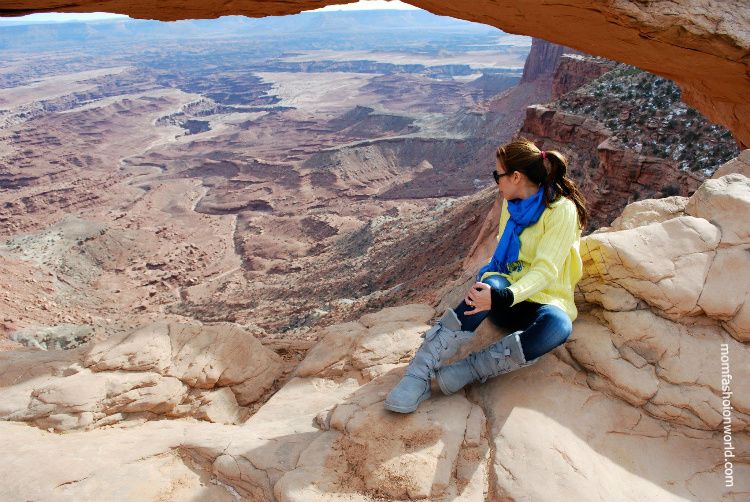 Sitting near the cliff, looking down into the crater of Upheaval Dome at 1500 feet deep. A recent theory does indeed suggest the cause was a meteor hit.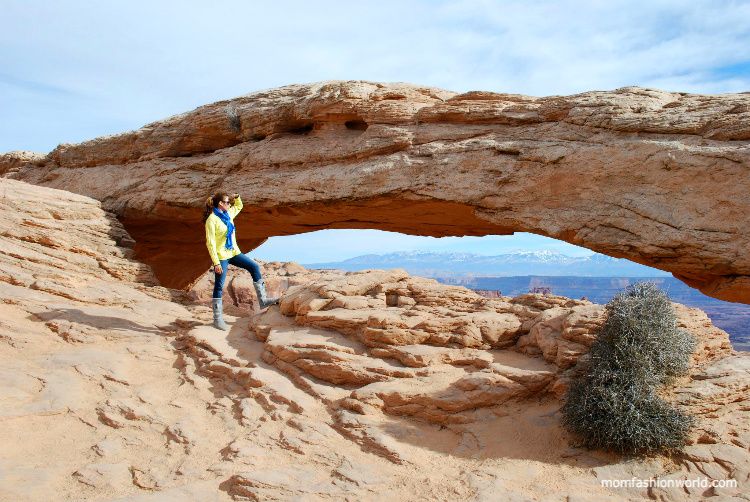 Overlooking the plateau of the Canyonlands. Breathtaking view.
My close up shot.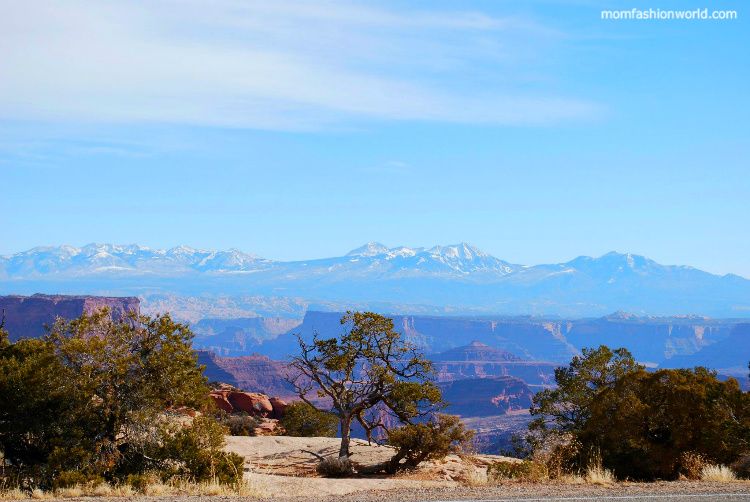 Beautiful landscape of La Sal Mountains covered with snow.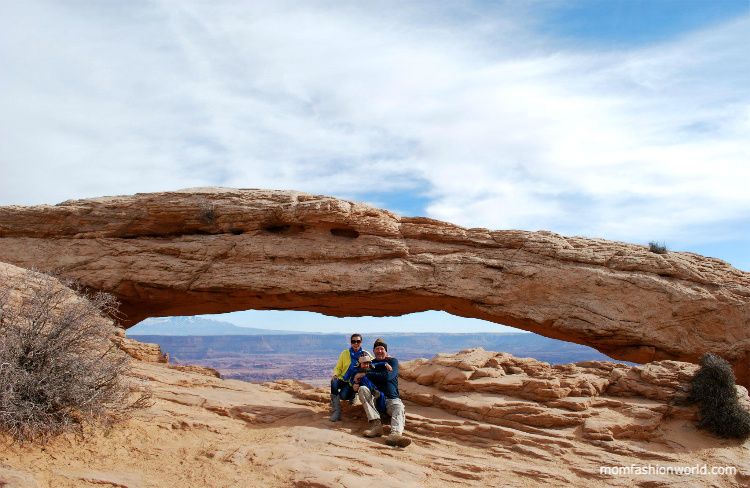 Traveling is more fun with the family!
Thank you for reading!