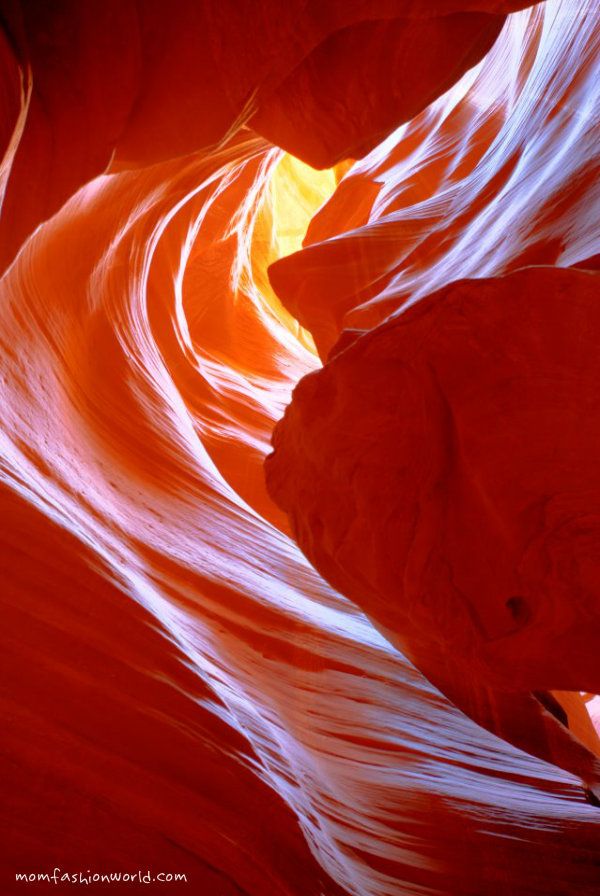 I
t's been four months have already passed when we went on

vacation

, but still I have not yet finished sharing my travel stories, so here it goes;
After Las Vegas, the next family's road trip was Arizona. Our daily trip routine was basically getting up early for sunrise, grabbed some lunch and dinner when we got hungry, back to the hotel to pack our luggages, and travel again to the next location. (Certainly, the family's living life to the fullest.) So, when we were in Arizona it was a pleasure to visit Upper Antelope Canyon, a slot canyon located in Navajo land near Page Arizona where we stayed for two nights. Upper Antelope Canyon is actually a petrified sand dune, formed millions of years ago by flash flooding that eroded the sandstone. Since Antelope Canyon is owned and operated by the Navajo nation, entry is restricted and visitors must go with a licensed tour guide. Nor can you take your own vehicle to the canyon entrance and visitors must be transported by a licensed operator. In our experience, we booked a tour through Antelope Canyon Tours. Our tour started at 10AM where we rode a monster truck. Oh boy, it was a pretty dusty and bumpy ride to get there. Antelope Canyon Tours offers two types of tours in different tour prices; 1. a guided tour and, 2. a photographer's tour (we took this tour) is a tour which tour guides hold up foot traffic at each end of canyon, show the best highlights of the canyon, and give you more time on taking photographs. Our tour guide, Al, was informative, friendly and helpful. He even helped me set up the tripod ( I didn't know what happened but my tripod was acting up), position my camera, pointed out the best spots and showed the best angles with my digital camera.
It was winter but Arizona's weather is bearable and not as cold as East coast. The outside temperature was in the 60's sunny but windy. When we were inside the canyon, the temperature dropped to 15 degrees in the actual outside temperature. I was wearing a thick windbreaker jacket but may be not enough to keep me warm. I was freezing for two hours. I assumed I could tolerate the cold, so I left my gloves in the hotel room. I thought wrong. My hands were numb and frozen stiff. So, guys if you go here in the winter though not cold, make sure you dress warmly enough and put on your gloves and hat.
The sandstones are very beautiful in the canyon but the lightings are different in the winter. At other times, the sandstones appeared from bursting yellow to firey, pinkish to purple and bluish like the photos posted here. As said by our tour guide, the beams of light are seen in the summer months because they have need the sun to be high in the sky. I would love to be back here in the summer. I would love to see those magical beams of light shining down on the canyon floor.
Entrance of Upper Antelope Canyon.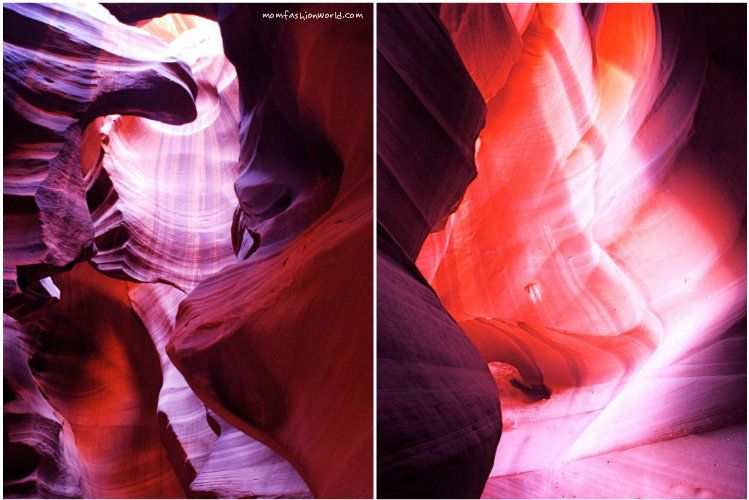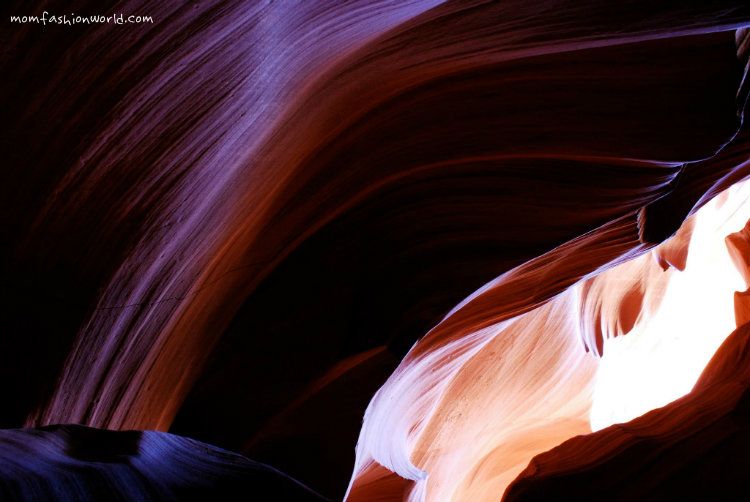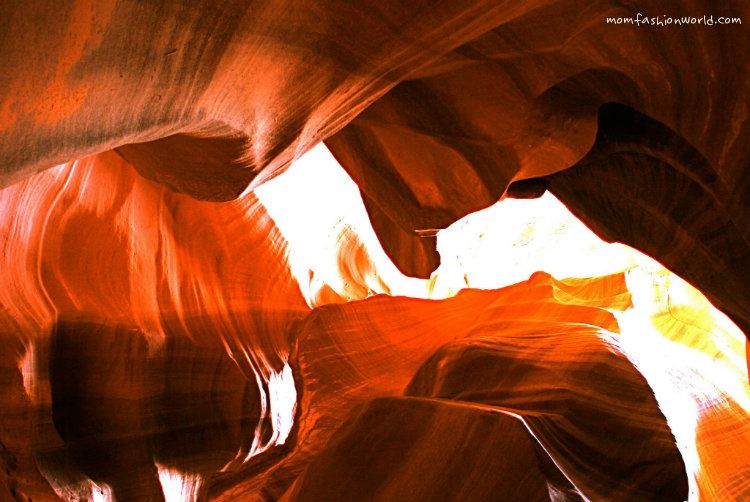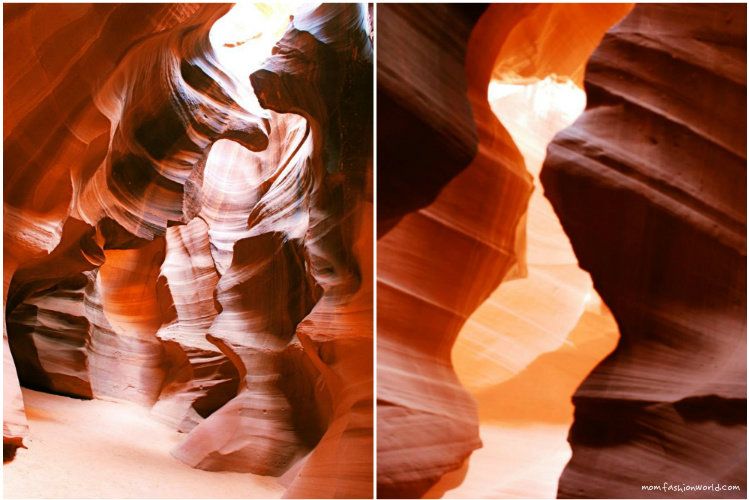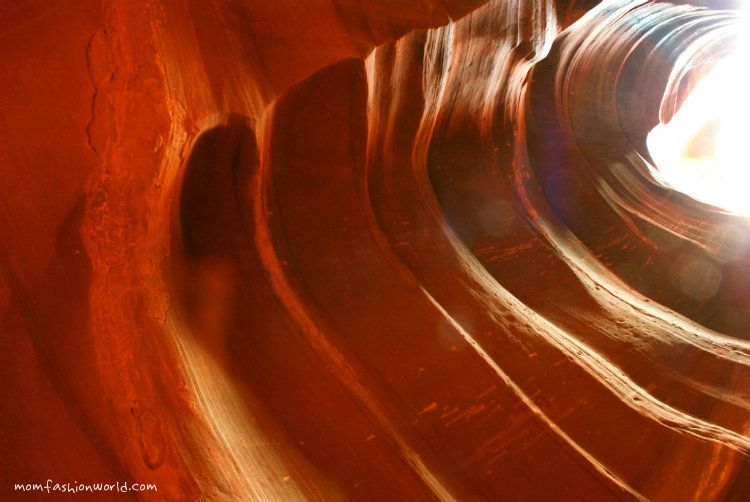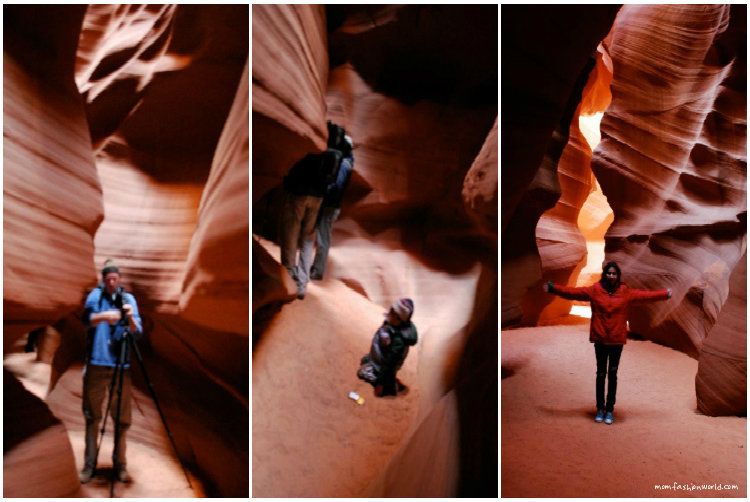 These are the only pictures we had inside the canyon. As you can see everyone was busy- Hubby's adjusting his tripod; Mr.Freddy focuses on his toys, (I brought toys for him to keep him pre-occupied) while I also was busy.... busy taking pictures of myself using the tripod and the self-timer.