If you've been following this blog, you should already know that I'm obsessed with Disney Cars characters such as Lightning McQueen and Mater since I was two years old. All I ever wanted was to play with these cars. Besides toys, from bed sheets, pillow cases, chairs, toothbrush, toothpaste, bubble bath, and numerous of clothes and shoes I own- all these things have Lightning McQueen emblems! I really went bonkers over them. Even on my

3rd birthday

, my Mom and Dad made me a Lightning McQueen cake. But as I grow older my likes and interests are changing but my obsession always comes back. When I was a year old, I adored Little Einsteins, Mickey Mouse and Handy Manny. Then after several years, I have had been a Toy Story fanatic. However, my

Cars obsession

died down a little after my Dad got me introduced to this animated film, Transformers. After seeing this movie I fell in love with it. I'm so addicted to this movie. I would have been glued to it the entire time. I could watch Transformers over and over again and never get bored watching it. When I first wake up in the morning until the night before bed, I would immediately tell my Dad or Mom I'd watch Transformers. But sometimes I'm not always allowed to watch it, huh?! Now that I've discovered my newest craze, right now, most of my new toys are Bumblebee and Optimus Prime. They are my newest toy darlings. Not only that I'm collecting and playing these action figures, but last winter when we were in Las Vegas, I first met Bumblebee and Optimus Prime. I was over the moon! They were so huge! To my delight, my parents approached and spoke to them to have pictures with them. Yay! They were so nice! After we took few pictures, they talked to me a little bit, they even let me touched their hard metallic bodies, we gave each other a high five and parted ways. What a wonderful night it had been compounded by the bright lights in the streets of Las Vegas.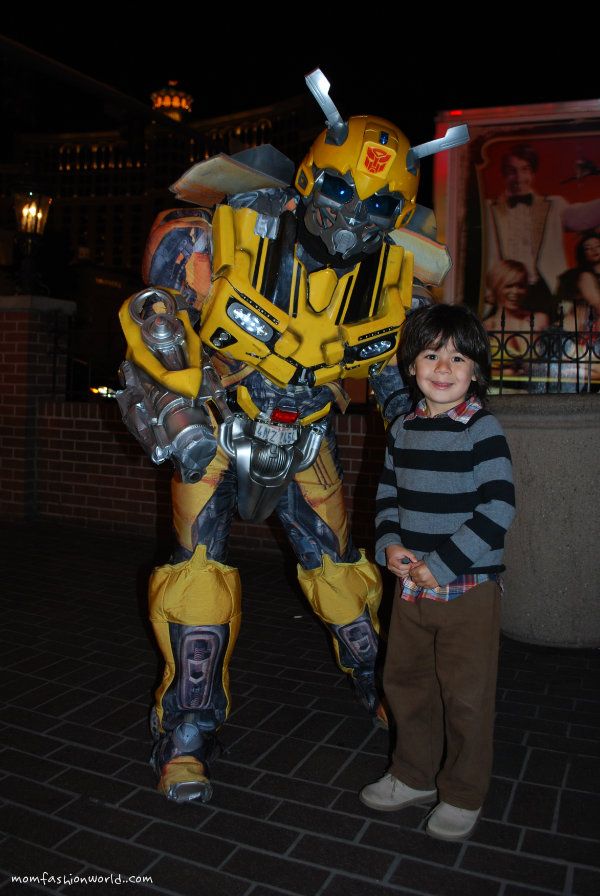 In Las Vegas, with Bumblebee.
In Las Vegas still, with my Mom, Dad and Optimus Prime.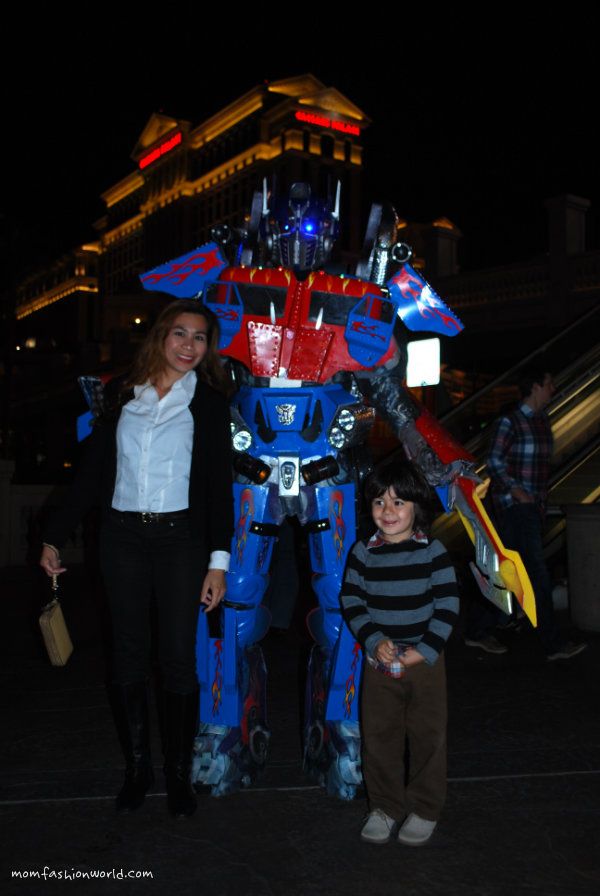 I thought I would never see Bumblebee or Optimus Prime again. A few weeks later when we met in Las Vegas, we bumped into each other again as we walked along Hollywood Boulevard in California. Omigosh! I was enthralled to see Bumblebee again. But Optimus Prime wasn't there. I wonder where did he go? Hmmm.... maybe he was busy making other children happy, too. Of course, I have photos with Bumblebee again. The meeting with Bumblebee and Optimus Primes was one of the happiest and memorable things that happened to me on our journey.