Time really flies so fast. Mr.Freddy has been going to school for a month now. I still can't believe he is four already. It seems like he was just born yesterday, but yes, he is in K-1 and he seems to be happy at school. His teacher tells me, for a child who is starting school for the first time, Mr.Freddy is doing well in the classroom. He enjoyed his first day. He didn't cry nor did he cling to me or to his dad (DH took a day off to show support to our lil' man. How fortunate Mr.Freddy must be in having such a very supportive Dad!) when we dropped him off to school. Before he went into the classroom, we both exchanged warm hugs and kisses to each other, I gave him another tight hugs and kisses, and reassure him that he will be fine and school is fun. I shed a little tear as I watched him walk towards the school door. But deep inside I whooped with joy. Don't get me wrong, parenting is not an easy job, I need a break at least five hours a day. Mr.Freddy is a smart boy and sending him to preschool was the best thing hubby and I did. I feel elated with his progress academically as well as behaviorally. Sometimes he would say something, and when I heard those words come from his mouth made me astonished! The lil' man is learning lots and new things at school. Speaking of Mr.Freddy's first day of school, some of my readers recently asked me if I could share photos of Mr.Freddy, so here they are.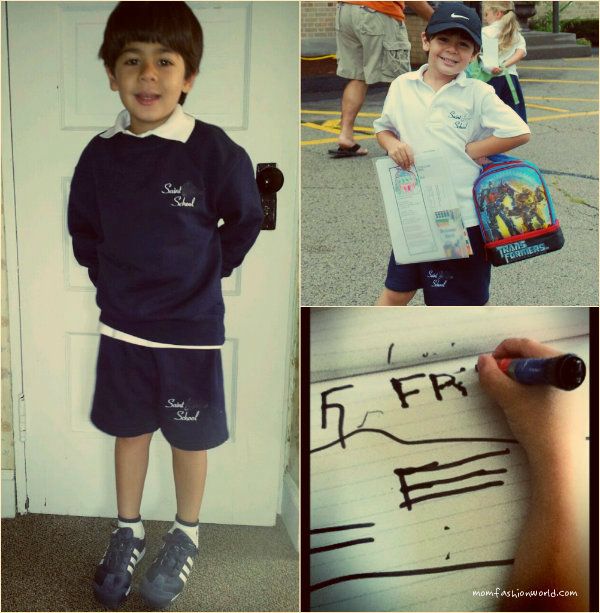 In his P.E. uniform. Look at that smile on the very first day of school. Since he started school, he's so eager to learn how to write his name.
Our house is not that far away from Mr.Freddy's school. It's only half a mile away, a few minutes' drive away or a 30 minute walk. When the weather is nice and sunny, I'd rather walk with a stroller to pick him up from school. Yet, walking is a good exercise. So, last week, the weather was gorgeous. I walked from home to Mr.Freddy's school to pick him up with this outfit minus the heels, of course! (I'm not yet losing my sanity.) Later in the afternoon, I still wore this sporty outfit when we went down the Cape but opt to wear lace up shoes. I was just inspired by wearing sweatpants and high heels when designers Alexander Wang and Isabel Marant presented sweats and heels on the runway. I love the combo of sweatpants with heels because it's comfortable and stylish at the same. What do you think of this combo?